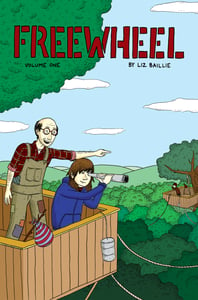 $

12.00
Jamie and her older brother Jack have always been inseparable. Growing up mostly in foster care, he's the only family Jamie has ever known. So when she wakes up one morning to find him gone without a trace, she takes it upon herself to find him. Little does she know, there is a whole secret society of people just outside our own who are ready and willing to help her on her quest.
Read it online for free here!
"With FREEWHEEL, Baillie explores a number of familiar fantasy story tropes: the quest, a particular kind of world building, and quirkily distinctive characters the heroine encounters on the way. There's a commitment to the world she's created that breathes life into this story on every page. With FREEWHEEL, Baillie has demonstrated that she's mastered an entirely new dialect of the language of comics."
--Rob Clough (the Comics Journal)
"It's adventure, it's family, it's fantasy, it s all of the above. Freewheel is a story that quickly stakes out its own unique take on the world around it and makes it memorable and enticing."
--Greg McElhatton (Read About Comics)